- 28th Nov. (sat) @ Dance Hall Benibana Hikone (2chome Kawaramachi Hikone)
"NECROPOLIS×KIKURI 2DAYS - Benibana Kourinsai"
ACID MOTHERS TEMPLE & SPACE PARANOID
Acid Mothers Temple & Space Paranoid :
Tabata "Mizzy" Mitsuru : voice, bass
Hiagshi Hiroshi : synthesizer, harp
Okano Futoshi : drums
Kawabata Makoto : guitar
open 15:30 / start 15:50 / curfew 21:00
door ¥3000 / 2day ticket ¥5000
w/ Hibushibire, sarry, TSUKA & MARO, Floaters
Acid Mothers Temple & Space Paranoid
An Acid Mothers Temple unit formed in 2013 at the request of our Spanish booking agent, who wanted to see Acid Mothers Temple playing Black Sabbath. A new unit was duly formed and toured the Iberian peninsula.
Originally the group's existence was to be limited to this one tour, however we realised that both AMT&The Melting Paraiso U.F.O. and AMT&The Cosmic Inferno had long moved beyond their original psychedelic heavy rock roots to play a wide range of music. So we decided to keep Acid Mothers Temple & Space Paranoid as a permanent unit that would focus just on spacey heavy rock.
We were determined to draw a line between us and the many doom metal and black metal bands who have also been inspired by Black Sabbath. So, placing Sabbath back into the early seventies context of their birth, we have defined them as a British blues rock band. To this template we have added sixties psychedelic elements, as well as an improvisational approach (something that Sabbath virtually never do live), and we have attempted to reconstruct their songs in heavier and spacier way.
___________________________________
- 29th Nov. (sun) @ Pool Sakuradai Tokyo
http://mdel.co.jp/pool/
KAWABATA MAKOTO + NAKAMURA TOSHIMARU
open 18:30 / start 19:00
door ¥2000
w/ Takeshita Yuma + Yan Jun, Kou Katsuyoshi + Ryu Hankil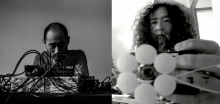 ___________________________________
"KK Null + Kawabata Makoto Japan Tour 2015"
- 4th Dec. (fri) @ Bears Namba Osaka (06-6649-5564)
namba-bears.main.jp/
open 18:30 / start 19:00
adv ¥2000 / door ¥2500
w/ SOLMANIA, CYBERNE, tbt S
- 5th Dec. (sat) @ Helluva Lounge Kobe (078-331-7732)
http://helluva.jp/lounge/
open 18:30 / start 19:00
adv ¥1800 / door ¥2000
w/ Chang Chang + Morita Kiyoshi + Matsumoto Takashi, ATAME, Kageno Wakaba
- 6th Dec. (sun) @ UFO Club Higashikoenji Tokyo (03-5306-0240)
http://www.ufoclub.jp/
「Far Out Project Special!!!」
open 18:30 / start 19:00~
adv ¥2500 / door ¥3000
w/ Brain Pulse Music Experiment by Masaki Batoh (The Silence, ex.GHOST), Kumihara Tagashi (Gunjogacrayon) + Kamekawa Chiyo (Fushitsusha) + Yoshida Tatsuya
___________________________________
- 7th Dec. (mon) @ Yellow Vision Asagaya Tokyo (03-6794-8814)
http://www.yellowvision.jp/
"Kawabata Makoto et à qui avec Gabriel 〜 Una Sera di Bando〜」
Kawabata Makoto et à qui avec Gabriel (Kawabata Makoto + à qui avec Gabriel)
open 19:00 / start 19:30
door ¥2000
___________________________________
"ACID MOTHERS TEMPLE Festival vol.14"
- 12th Dec. (sat) @ Tokuzo Nagoya (052-733-3709)
http://www.tokuzo.com
Nani Satoshima, the newest member of Acid Mothers Temple & The Melting Paraiso U.F.O. makes his first appearance at the Acid Mothers Temple Festival!! He's dragged down the average of the group, but driven up the tension levels dramatically! Surrender your body to the constantly evolving deep psychedelic sound, dance yourself into a lunatic ecstacy in the weird psychedelic environments created by our light wizards liquidbiupil!!
ACID MOTHERS TEMPLE & THE MELTING PARAISO U.F.O. :
Tsuyama Atsushi : bass, voice, cosmic joker
Kawabata Makoto : guitar, speed guru
Higashi Hiroshi : synthesizer, noodle god
Tabata Mitsuru : guitar, guitar-synthesizer, maratab
Satoshima Nani : drums, another dimension
with
liquidbiupil:light show
open 17:30 / start 18:30
adv ¥2800 / door ¥3000
■ Including Tsuyama Atsushi's auction laughathon. Who knows what rare items he has in his bag this year.
■ At the Shopzone a clearout sale of all current and old titles.
■ We will be selling the "14th AMT Festival" T-shirt. This will be highly limited so do not delay!
■ Those who purchase tickets in advance can exchange their tickets at the entrance for a special CDR present.
■ AMT member's fleamarket. What hidden treasures can you find?
■ After the concert we will host the usual AMT end of year party. Please join us.
■ HIgashi Hiroshi will hold the Kaoru Tachiba Francois exhibition in a fine collection of his paintings

From Nagoya Station, take either the Higashiyama underground line towards Fujigaoka, or the Sakuradori line towards Nonami. In both cases, alight at Imaike which is about ten minutes from Nagoya Station. The venue is two minutes walk from exit ten at Imaike.


The gig will end by 22:00, because of noise limitation ordinances. Since The last Nozomi shinkansen bound for Tokyo leaves Nagoya station at 22:10, so we recommend that anyone who wants to travel back to Tokyo that night instead books the nightbus "Dream" leaving from in front of Nagaoya station at 23:30. There are other cheap night buses as well, leaving up till 24:15.
For those travelling from Osaka, the last Nozomi bullet train leaves Nagoya at 22:57. You will have adequate time to catch either one of these.
There are numerous cheap hotels both around Tokuzo and around the Nagoya Station area. However, since the gig wil be on a weekend it would be advisable to make a booking in advance.
Tokuzo will be open as a bar until 05:00 so it will also be possible to spend the night drinking there and then catch the first train home in the morning. There are many other drinking establishments near Tokuzo that stay open all night.




___________________________________

- 13th Dec. (sun) @ Smith Memorial Hall Hikone (0749-24-8781)
http://smith-meeting.com

SKY SHINE (Kawabata Makoto : guitar, synthesizer + liquidbiupil : OHP light show)




open 14:30 / start 15:00
door \2500 (limited 30 tickets)
contact:bo-cyan@hotmail.co.jp (KIKURI)




___________________________________

"Acid Mothers Temple & The Melting Paraiso U.F.O. Shikoku Tour 2015"

ACID MOTHERS TEMPLE & THE MELTING PARAISO U.F.O. :
Tsuyama Atsushi : bass, voice, cosmic joker
Kawabata Makoto : guitar, synthesizer, speed guru
Higashi Hiroshi : synthesizer, noodle god
Tabata Mitsuru : guitar, guitar synthesizer, maratab
Satoshima Nani : drums, another dimension

- 18th Dec. (fri) @ TOONICE Takamatsu (087-802-1069)
http://impulse-records.main.jp/toonice/
open 19:00 / start 19:30
adv ¥2200 / door ¥2700
w/ Scrotal Vice, Tainted DickMen, deadpudding

- 19th Dec. (sat) @ Chaotic Noise Kochi (088-823-8190)
http://kclub.exblog.jp/
"Chaotic 'Acid' Noise Fest - Winter 2015 -"
open 18:30 / start 19:00
adv ¥2000 / door ¥2500
w/ SeeBooz, Hakurikikomugiko




- 20th Dec. (sun) @ Hoshizora Jet Matsuyama (089-933-0001)
http://www.hoshizorajett.jp/
"SPACEGRINDER presents EXTREMEDIVES vol.171"
open 17:00
adv ¥2000 / door ¥2500 (* Free for under18 with the student's ID / ¥1500 for College student with the student's ID)
w/ Spacegrind*Acidopesoundsystem




___________________________________

- 10th Jan. (sun) @ Musica Japonica Umeda Osaka (06-6363-0848)
http://musicaja.info

HUMAN SHOWER (Satoshima Nani + Kawabata Makoto)
with Nakaya Koichi (Nasca Car) : special MC




open 18:00 / start 19:00
adv ¥2200 / door ¥2500




___________________________________

"Nakatani Tatsuya + Kawabata Makoto Japan Tour 2016"

NAKATANI TATSUYA (dr, per) + KAWABATA MAKOTO (g)




- 11th Jan (mon) @ Smith Memorial Hall Hikone (0749-24-8781)
http://smith-meeting.com
open 14:30 / start 15:00
door ¥2500 (limited 30 tickets)
contact & reservation:bo-cyan@hotmail.co.jp

- 12th Jan. (tue) @ Kirchherr Hamamatsu (053-458-1388)
http://zoot-horn-rollo.jp/index.html
open 19:30 / start 20:00
adv ¥2000 / door ¥2500

- 13th Jan. (wed) @ El Puente Yokohama (045-628-9888)
https://www.facebook.com/El-Puente-214096195273923/
open 18:30 / start 19:00
door ¥2000
light show : liquidbiupil

- 14th Jan. (thu) @ Candy Inage Chiba (043-246-7726)
http://blog.livedoor.jp/jazzspotcandy/
open 19:30 / start 20:00
adv ¥3000 / door ¥3500

-15th Jan. (fri) @ Hikari No Uma Okubo Tokyo
http://hikarinouma.blogspot.fr
open 19:00 /start 19:30
door ¥2000

- 16th Jan. (sat) @ Sakuraza Cafe Kofu (055-233-2031)
http://www.sakuraza.jp
open 18:30 /start 19:00
adv ¥2500 / door ¥3000

- 17th Jan. (sun) @ Hallbee Fukui (090-2033-6781)
http://www.hallbee.jp
open 18:30 /start 19:00
door ¥3000 (including 1drink)

- 18th Jan. (mon) @ Helluva Lounge Kobe (078-331-7732)
http://helluva.jp/lounge/
open 18:30 /start 19:00
adv ¥1800 / door ¥2300

- 19th Jan. (tue) @ Chaotic Noise Kochi (088-823-8190)
http://kclub.exblog.jp
open 19:00 / start 19:30
adv ¥2000 / door ¥2500

- 20th Jan. (wed) @ Studio Bignose Matsuyama (089-945-8049)
http://www.ss-bignose.com/bignose-site/studio.html
open 18:00 / start 18:30
adv ¥1800 / door ¥2300

-21st Jan. (thu) @ Athall Oita (097-535-2567)
http://www.athall.com
open 19:30 / start 20:00
adv ¥2000 / door ¥2500

-22nd Jan. (fri) Bar Mojo Kagoshima (099-226-7715)
http://barmojo.jimdo.com
open 19:30 / start 20:00
door ¥2500

- 23rd Jan. (sat) @ Bar Fuji Omuta Fukuoka (092-716-2788)
https://sites.google.com/site/pcants/
open / start 19:00
door ¥2000

- 24th Jan. (sun) @ Shin-Tamanegibatake Hagi Yamaguchi
https://www.facebook.com/tamanegibatake/
18:30open /19:00start
adv ¥2200 / door ¥2500

- 25th Jan. (mon) @ Otis! Hiroshima (082-249-3885)
http://homepage2.nifty.com/live-otis/
open 18:30 / start 19:30
door donation

- 26th Jan. (tue) @ Shiroshita Kokaido Okayama (086-234-5260)
http://www.saudade-ent.com/kokaido/index.html
open 19:30 / start 20:00
adv ¥2300 / door ¥2800

27th Jan. (wed) @ Futuro Kitahorie Osaka (06-6532-5830)
http://futurolive.exblog.jp
open 19:00 / start 19:30
adv ¥2000 / door ¥2500


スポンサーサイト
| Home |