Chaco & Hell's Angel is early 70s Japanese pop garage group (we call 60s &70s japanese garage "Group Sounds" or "GS")... i think they debuted a little too late... though they debuted in 1973, so-called "GS boom" already finished and many groups already broke up then... unfortunately Chaco & Hell's Angel couldn't get any success... because already Flower Travelin' Band, Mops, many japanese rock groups debuted... "GS boom" had totally gone...
basic of their music is totally just pops like same as lots of GS groups. but the parts of their arrangement are more like Art Rock or Prog Rock style!! because all songs were composed and arranged by Makaino Koichi!!! he is so popular composer and arranger for long time also still now. though he composed many big hit songs, his arrangement is always colorful, grandiose, also have a Western air... so i love his arrangement!!! in 1974 when this album was released, he already got success as arranger. but he arranged so strange for Chaco & Hell's Angel's songs... originally he was a keyboard player on one GS group, but they couldn't get success, so he changed to be arranger and composer.
i don't know he tried to arrange like Art Rock, Psychedelic Rock and Prog Rock style that were popular at that time, or not... but i guess maybe we wanted to play something like Rock instead of GS as pops... i guess unfortunately Chaco & Hells Angel were not interested in playing Rock, they wanted to be just pop star, idol, even they named "Hell's Angel"!! hahaha...
my favorite of this album B-4 remains me Country Joe & The Fish (except for vocal!)... a bit... hahaha... also some guitar works remains me Syd's Pink Floyd...! (only a few seconds... hahaha) anyway all intro of each tracks are so good, but when vocal comes i laugh so much... too bad vocal... unbelievable bad!!! anyway i can enjoy even this kind of so bad music with such good & strange arrangement!!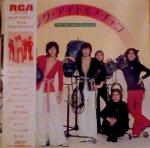 スポンサーサイト
| Home |